Use our thorough list of thermocouple wire manufacturers and suppliers in Nevada to examine and sort top thermocouple wire manufacturers with previews of ads and detailed descriptions of each product. Any thermocouple wire manufacturers can provide thermocouple wire product and services to meet your companies specific qualifications. An easy connection to reach thermocouple wire manufacturers through our fast request for quote form is provided as well. This source is right for you whether it's for flow control related product, thermistors, temperature probe or any other thermocouple wire needs.
Request For Quote
Las Vegas, NV
|
702-894-9891
Innovative Sensor Technology has been a manufacturer of thin-film platinum and nickel RTD temperature sensors since 1991. Our headquarters is in Switzerland and our US division is located in Las Vegas, NV. The core technology of all IST products is thin-film deposition. There are many advantages to thin-film as opposed to wire-wound RTDs: they can operate in the harshest conditions while experiencing minimal drift, they are more resistant to vibration, and are more affordable to manufacture. We apply our expertise in thin-film deposition to develop measurement solutions that are consistent and reliable. We manufacture standard and custom sensors for system integrators in the process control, building automation, test & measurement, medical, and appliance industries. Additionally, our R&D staff and own in-house clean room based fabrication allows us to create custom sensors designs starting from samples scale, all the way to mass production supplies in short time. Staying consistent with the Swiss standard of quality, we have been ISO 9001 and 14001 certified since 1997. IST has one of the best equipped front-end production lines for thin-film sensors, operating in clean rooms to class 1000. The automatic assembly technology we use ensures the highest quality product with an optimal price-performance ratio. Precise measuring instruments in our laboratories allow for calibration of temperature, humidity and flow. Furthermore, we continue to audit, revise and expand our quality control methods to ensure we continue producing the best products. Learn more by contacting us today!
$$$
Reno, NV
|
800-257-3526
As a supplier of thermal products such as thermostats, thermistors, thermocouples, panel instruments, photo cells and knobs, our range of products are ready for shipment to your door. Our thermistors are used for sensing surface temperatures. We can also manufacture special electronic controls.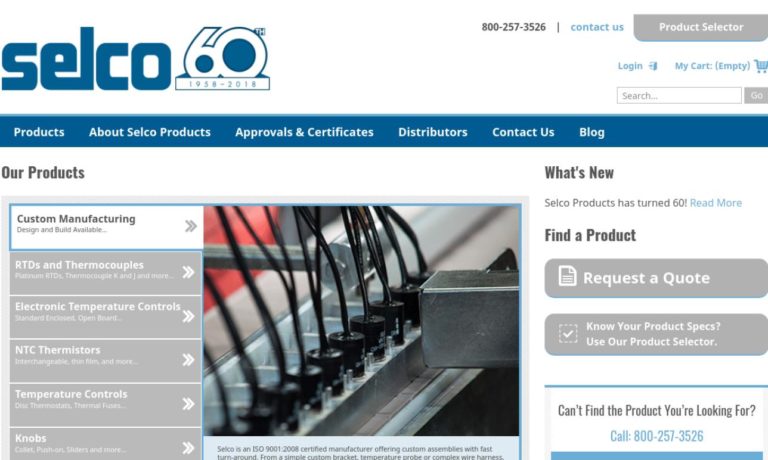 $$$
Companies Serving Near Nevada
Boise, ID
|
800-554-4784
Available from QTI is a precision USB thermometer accurate to +/-0.1°C from freezing to boiling (0 to 100°C). Quality Thermistor can act as a full-support, turn-key design team for solving your temperature sensing applications. QTI has partnered with the NASA Goddard Space Flight Center for surface mount thermistors qualified to S311-P827. We are ISO:09001:2000 and AS9100 certified.
$$$