RTD devices measure temperature by proportionately changing resistance to temperature. RTD probes comprise an RTD sensing element, a housing or sheath, filler or epoxy, extension leads, and occasionally a connection or termination. There are various sensor materials available. Read More…
RTD Sensors
RTD sensors, or resistance temperature detectors, can also be referred to as resistance thermometers as they are used to measure the temperature through a process in which the resistance of the RTD element is correlated with the overall temperature.
As a result, RTD temperature probes and sensors can be used in various applications across numerous sectors. These temperature-sensing devices can function in harsh environments.
Working Principle
The resistance-temperature connection of the metal used in creating RTD sensors is the foundation for its function. The detector is calibrated following the measurement of the change in resistance value that results from each degree increase in temperature.
Because resistive elements are brittle, insulation is usually necessary. Therefore, the element is linked to insulator leads. PVC is used with insulators, such as molds, for temperatures under 250oC. As an outer covering, a metal alloy unreactive to temperature is utilized to house the Leads and measuring device. The temperature gradient of the sensor is the range from 0°C to a temperature margin in which the change is linear. The type of cable the sensor uses will determine this. The temperature range for platinum is up to 6600C, while the range for nickel is up to 3000C.
Types of RTD Sensors
Wire-Wound
Wire-wound RTD sensors wrap around an insulating ring or spindle. Wire-wound RTD sensors use wires made from copper, iron, and platinum. The greatest resistance-temperature relationship is provided by platinum; however, platinum wires are expensive. In addition, the expansion allowance that wire-wound elements provide makes them valuable.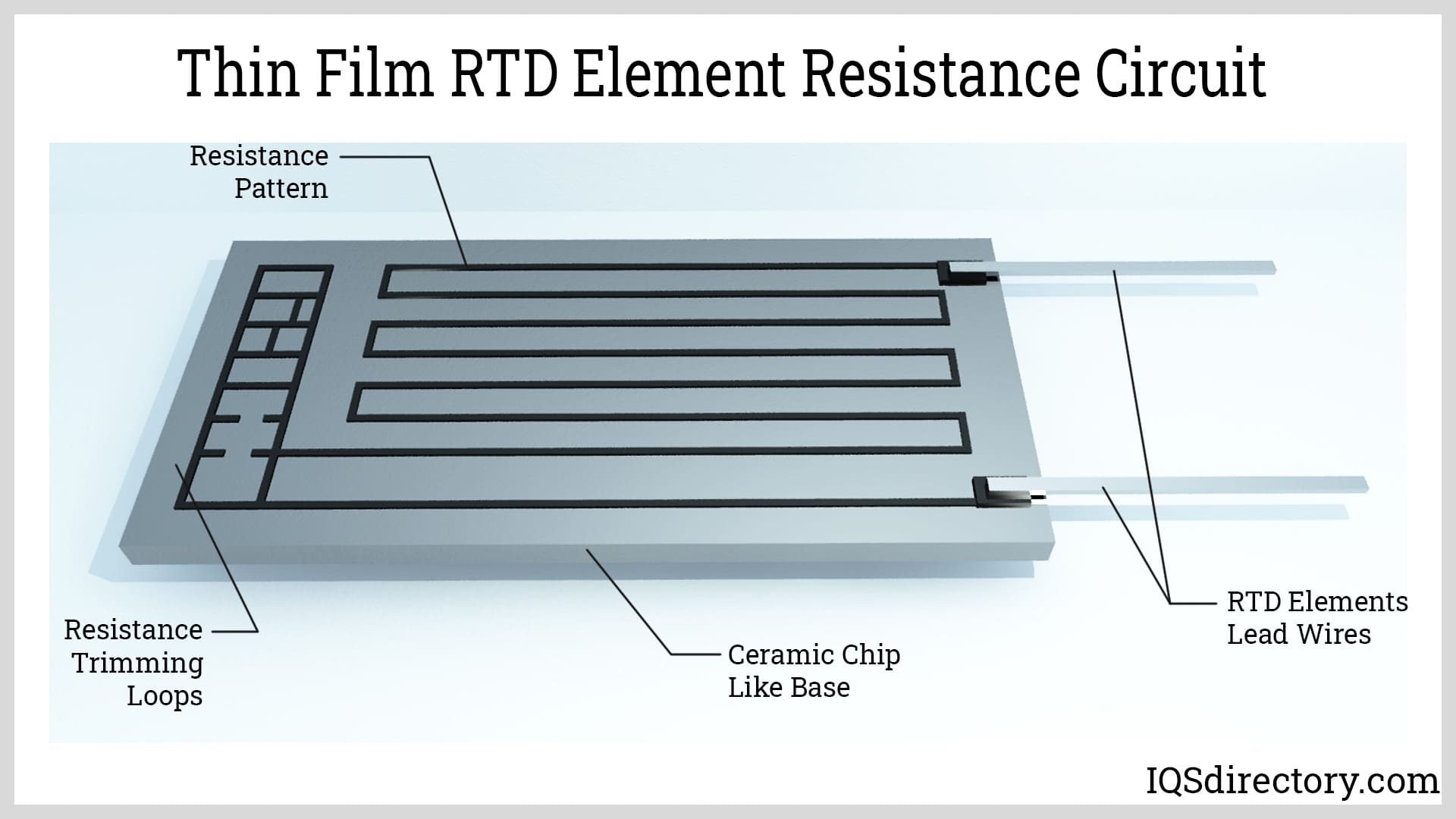 Carbon Resistor
Carbon resistors are very affordable. They should only be used in applications requiring very low temperatures.
Thin Film RTD
Thin film RTDs are a light coating of platinum film deposited onto a substrate. The design etched into the RTD element creates an electrical circuit. Platinum Slim RTDs maintain accuracy across a broad temperature range and have a near-linear resistance vs. temperature relationship. As a result, the platinum RTDs benchmark is considered the European benchmark DIN/IEC 60751.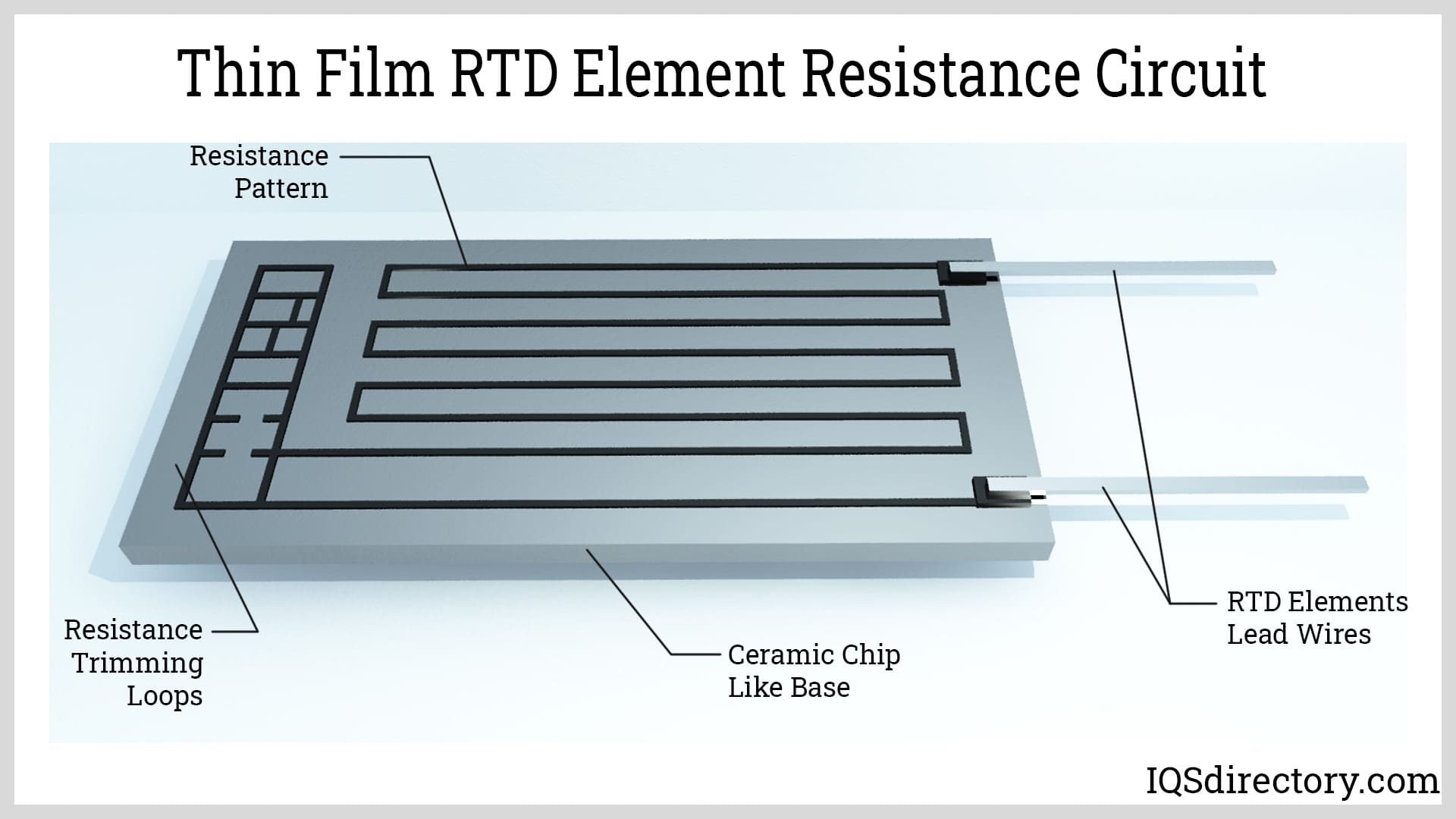 Strain-Free
Strain-free RTDs also use wire coils, but this wire is wound around over a sealed housing with inert gas rather than glass or ceramic. To allow the element to expand and contract easily in response to temperature changes, they only employ platinum wire that must be loosely wound. This element type's primary drawback is it is poorly supported and consequently prone to shock and vibration.
Considerations When Choosing RTD
Manufacturers often offer RTD sensors attached to insulated leads if they are designed to be submerged in cold temperatures. Silicone rubber, polyvinyl chloride, or PTFE (polytetrafluoroethylene) often create these insulated lines. Additionally, producers frequently encase light sensors in shielding, unreactive metal alloy sleeves. When choosing housings or sheaths, remember they must protect the sensors from external damage (like chemical toxins, wind, rain, and other variables).
Measuring Range:
RTDs could detect temperatures of up to 1000°C. However, it's challenging to obtain precise readings at temperatures higher than 400°C. TCs can measure up to 1700°C. The recognized rule is: for precision, use an RTD for temperatures below 850°C; for temperatures beyond 850°C, use a TC. An RTD is best for the average industrial temperature range from 200°C to 400°C.
Choosing the Proper RTD Sensor Manufacturer
To make sure you have the most productive outcome when purchasing RTD sensors from an RTD sensor manufacturer, it is important to compare at least 4 manufacturers using our RTD sensor directory. Each RTD sensor manufacturer has a business profile page that highlights their areas of experience and capabilities and a contact form to directly communicate with the manufacturer for more information or request a quote. Review each RTD sensor business website using our proprietary website previewer to get an idea of what each business specializes in, and then use our simple RFQ form to contact multiple RTD sensor businesses with the same quote.
RTD Sensors Informational Video